USA
Luxus-Oldtimer-Treffen der Superlative
Copyright © 2008 Pebble Beach Concours d'Elegance

Mehr als 200 Oldtimer aus 12 Ländern starteten in den USA zum 58. eleganten Pebble Beach-Schönheitswettbewerb an der Atlantik Küste bei Monterey. Sieger - dekoriert mit der Auszeichnung "Best of Show - wurde ein 1938 Alfa Romeo, den Jon und Mary Shirley aus Medina, Washington ihr eigen nennen und der nun im Wert um einiges gestiegen sein dürfte. Am 18. Loch eines der spektakulärsten Golfplätze der Welt trafen sich vom 16.-19. August Oldtimer-Liebhaber und Sammler aus der ganzen Welt zum "Concours d'Elegance".



Best of the show Gewinner: der 1938 Alfa Romeo 8C 2900B Touring Berlinetta, Besitzer Jon & Mary Shirley aus Medina, Washington
Copyright © 2008 Pebble Beach Concours d'Elegance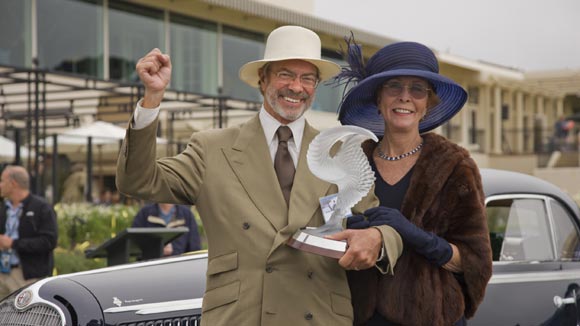 Jon & Mary Shirley
Copyright © 2008 Pebble Beach Concours d'Elegance

Jon Shirley, Ex-Microsoft-Boss, hatte den 1938 Alfa Romeo 8C 2900B Touring Berlinetta erst vor vier Jahren gekauft. Nur 33 Exemplare des Wagens wurden einst gebaut, meist war die Karosserie von Carozzeria Touring gebaut. Der Siegerwagen ist aber ein Unikat, einer von sechs privat bestellten Berlinettas, der für diverse Werbe-Anzeigen von Alfa verwendet wurde. "Dieser Wagen hat eine faszinierende Geschichte", so Jon Shirley "Er gewann das erste Rennen in Watkins Glenn 1948 und obwohl er ganz schön häufig eingesetzt wurde, hatte er nie einen Unfall."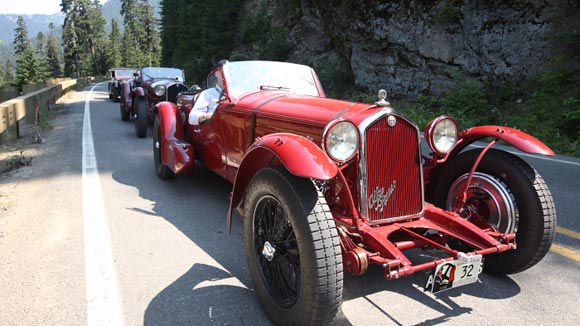 Copyright © 2008 Pebble Beach Concours d'Elegance

Besonderen Anklang bei Zuschauern und Teilnehmern fanden die Ausfahrten in die Region wie beispielsweise auf dem berühmten Highway No. 1 . "Das ist mein Lieblingsteil dieses Wochenendes. Man kann die Fahrzeuge hören und riechen", meinte David Gooding, Auktionshaus Gooding & Co. "Wenn sie erst mal rollen, bekommt alles eine neue qualitative Dimension. Es macht Freude zuzusehen und die Menschen darin zu sehen. Es ist ein total neuer aufregender Aspekt dieses Events. Ich bin immer wieder überrascht. Manchmal sehe ich hier Fahrzeuge, von denen ich seit Jahren wusste, dass sie restauriert werden. Und dann ist es wirklich eine Freude, sie hier draußen zu sehen."

Neu inszeniert wurde auch die Tour d'Elegance, als Chance für Show Cars zu zeigen, was in ihnen steckt. Pebble Beach Komitee-Mitglied Peter Hageman über die Tour d'Elegance: "Pebble Beach hatte sich bisher einen Namen gemacht als Ausstellung für glänzende Chromkarossen, die sich nicht bewegten und für hustende Oldtimer, die kaum auf die Rampe kamen um ihre Trophäe abzuholen. Das hat sich jetzt geändert. Die Fahrzeuge müssen korrekt sein, authentisch, und sie müssen funktionieren und sie müssen ordentlich funktionieren. Nun 60 Meilen sind kein mörderischer Test, aber es ist ein Test für voll funktionstechnische Automobile wie sie sein sollten."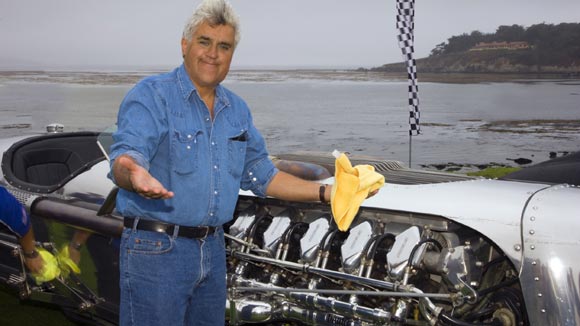 Jay Leno wischt den Morgentau von seinem M47 Patton tank machine ab.
Copyright © 2008 Pebble Beach Concours d'Elegance

Mit von der Partie- wie in jedem Jahr - war auch Tonight Show-Größe Jay Leno, der seinen deftigen 20+ Liter Chrysler Tank Car mitbrachte. "Das ist ein M47 Patton tank machine mit Doppelturbo. Er hat 1600 PS und wiegt fünf Tonnen," berichtete Leno "Das ist eigentlich nicht wirklich viel, wenn man bedenkt, dass die Maschine einen 5 Tonnen Panzer bewegen muss.

Was fasziniert Menschen an Oldtimern? Die Antwort darauf gab Top Gear Modeartor Adam Corolla: "Wenn sie zu einem Van Halen Konzert gehen, dann sehen auch alle Besucher ungefähr gleich aus. Eben wie Van Halen Fans. Hier ist das nicht so. Hier ist es so, als ob man sagen würde: alle Musikfans treffen sich. Die einen interessieren sich für Klassiker, die anderen für Acid Rock und alle sind unter einem Dach. Das beschreibt was in Pebble Beach los ist. Wir sind alle Autofreaks. Aber einige Leute lieben historische Ferraris, andere Jahrhundertwende-Fahrzeuge. Man hat eine wirkliche Mischung. Einige lieben amerikanische Muscle Cars, andere nur Europäer. Alle gemeinsam lieben wir Autos."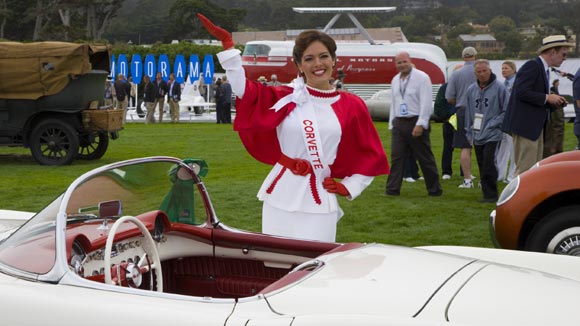 Ein Model präsentiert den 1953 Chevrolet Corvette EX122 Prototyp Roadster in der Sonderausstellung "Motorama"
Copyright © 2008 Pebble Beach Concours d'Elegance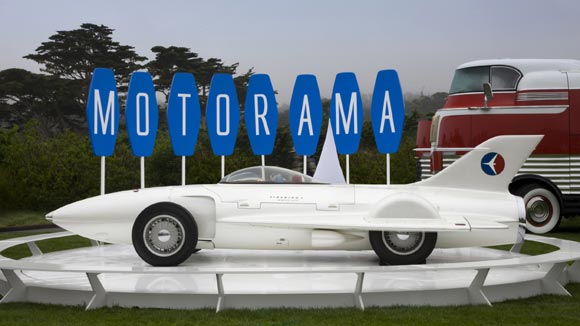 Der 1954 Firebird XP-21 "Firebird I", eines der 20 Fahrzeuge der Sonderausstellung "Motorama" auf dem 58. Pebble Beach Concours d´Elegance. Im Hintergrund der GM Futureliner
Copyright © 2008 Pebble Beach Concours d'Elegance

Ein Highlight war die Ausstellung von Auto-Archäologe Joe Bortz, im Rahmen des historischen GM Motorama "Traumwagen" zum 100. Geburtstag von General Motors. Bortz, der als kleiner Junge die "Traumwagen" im Jahr 1955 auf der Chicago Auto Show gesehen hatte, fand deren Überreste Jahre später in einer Müllkippe bei Detroit. In mühsamer Kleinarbeit ließ er die mobilen Kunstwerke von einst wieder auferstehen. In Pebble Beach erwachten die Kultautos von einst wie der Firebird III. zu neuem Leben.

Alljährlich findet der Pebble Beach Concours am dritten Wochenende im August statt.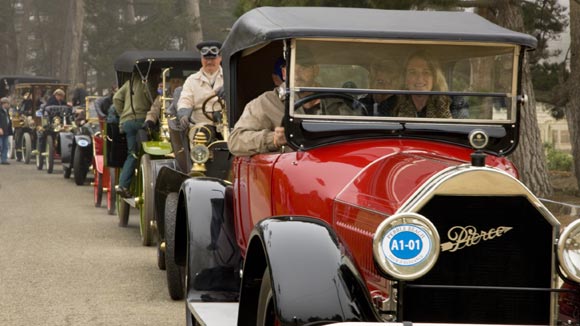 Copyright © 2008 Pebble Beach Concours d'Elegance

Best of Show
(gestiftet von Pebble Beach Company / Diamond Promotion Service Black, Star & Frost / Lalique of North America / MMD USA)

1938 Alfa Romeo 8C 2900B Touring Berlinetta
Jon & Mary Shirley, Medina, Washington

Weitere Nominierte für "Best of Show"
1935 Hispano Suiza K6 Brandone Cabriolet
Sam & Emily Mann, Englewood, New Jersey

1934 Packard 1108 LeBaron Sport Phaeton
The Nethercutt Collection - Jack & Helen Nethercutt, Sylmar, California

Sieger "MOST ELEGANT "

Gwenn Graham Most Elegant Convertible Trophy (gestiftet von Elegant Set)
1949 Alfa Romeo 6C 2500SS Pinin Farina Cabriolet
Larry Klein, Santa Rosa, California

J.B. and Dorothy Nethercutt Most Elegant Closed Car Trophy (gestiftet von Rolex)
1938 Alfa Romeo 8C 2900B Touring Berlinetta
Jon & Mary Shirley, Medina, Washington

Most Elegant Open Car Trophy (gestiftet von Joseph Brilando / The Candy Store)
1934 Packard 1108 LeBaron Sport Phaeton
The Nethercutt Collection - Jack & Helen Nethercutt, Sylmar, California

Strother MacMinn Most Elegant Sports Car Trophy (gestiftet von William E. Connor & Associates)
1959 Ferrari 250 GT LWB Scaglietti Spyder California
James A. Patterson - The Patterson Collection, Louisville, Kentucky

Klassen-Sieger

Class A-1 "Antike Fahrzeuge bis 1915"
1. 1914 Peugeot Type 150 Phaeton
Bill Johnston & Ron Elenbaas, Richland, Michigan
2. 1912 Pope-Hartford Model 27 Portola Roadster
Gary & Sheryl Hunter, Arcadia, California
3. 1911 Rambler Model 65 7-Passenger Touring
Ray Gibson & Doris Kindberg, Turlock, California

Class A-2 "London - Brighton"- Veteranen
1. 1904 De Dion Bouton Henri Binder Tonneau
Barry G. Hon, Dana Point, California
2. 1903 Peerless Style F Rear Entrance Tonneau
The Nethercutt Collection - Jack & Helen Nethercutt, Sylmar, California
3. 1903 Peerless Style F Rear Entrance Tonneau
Malcolm Barber, Warlingham Surrey, England

Class C-1 "Amerikanische Klasse Offen"
1. 1931 Pierce-Arrow 41 LeBaron Convertible Victoria
Tom & Julie Williams, Los Altos Hills, California
2. 1930 Jordan Model Z Speedway Ace Roadster
Edmund J. Stecker, Pepper Pike, Ohio
3. 1930 Cord L-29 Phaeton Sedan
James Quinlan, Northville, Michigan

Class C-2 Amerikanische Klasse - offene Packards
1. 1934 Packard 1108 LeBaron Sport Phaeton
The Nethercutt Collection - Jack & Helen Nethercutt, Sylmar, California
2. 1932 Packard 904 Dietrich Sport Phaeton
John D. Groendyke, Enid, Oklahoma
3. 1934 Packard 1107 Dietrich Convertible Victoria
Marvin & Vivian Zukor, San Rafael, California

Class C-3 Amerikanische Klassiker - geschlossen Vorkrieg
1. 1933 Duesenberg SJ Murphy Beverly
Joseph & Margie Cassini III, West Orange, New Jersey
2. 1937 Packard 1507 Coupe
Zach K. Brinkerhoff Jr., Denver, Colorado
3. 1934 Buick 91 Club Sedan
Kevin & Frances Pullin, Orange, California

Class C-4 Cadillac V-16
1. 1934 Cadillac V-16 452D Fleetwood Convertible Sedan
David E. & Linda Kane, Bernardsville, New Jersey
2. 1938 Cadillac V-16 Series 90 Fleetwood Fastback Limousine
John & Heather Mozart, Palo Alto, California
3. 1931 Cadillac V-16 452 Fleetwood Convertible Coupe
Charles A. Eggert, Morristown, New Jersey

Class E-1 Lancia Vorkrieg
1. 1933 Lancia Astura Castagna Torpedo
Guido Lamperti, Carate Brianza, Italy
2. 1923 Lancia Lambda 1st Series Torpedo
Gigi Baulino, Pino Torinese, Italy
3. 1908 Lancia 12 hp Alpha Miller Brothers Tourer
Corrado Lopresto, Milano, Italy

Class E-2 Lancia Nachkrieg
1. 1952 Lancia Aurelia B53 Giardinetta
Oscar Davis, Elizabeth, New Jersey
2. 1946 Lancia Aprilia Pagani Riva Barchetta Corsa
Charles Schoendorf, Rowayton, Connecticut
3. 1959 Lancia Flaminia Zagato Coupé
Bruce D. Milner, Los Angeles, California

Class H Rolls-Royce Vorkrieg
1. 1937 Rolls-Royce Phantom III Freestone & Webb Sedanca
Don & Janet Williams, Danville, California
2. 1935 Rolls-Royce Phantom II Continental Binder Cabriolet
Steve Wolf, Boca Raton, Florida
3. 1926 Rolls-Royce Phantom I Brewster Playboy Roadster
James D. Caldwell Sr., Toms River, New Jersey

Class I Mercedes-Benz Vorkrieg
1. 1939 Mercedes-Benz 770K Cabriolet B
The William Lyon Family, Newport Beach, California
2. 1928 Mercedes-Benz S Armbruster Cabriolet
Arturo & Deborah Keller, Petaluma, California
3. 1937 Mercedes-Benz 540K Cabriolet A
Ray & Janet Scherr, Westlake Village, California

Class J-1 Europäische Klasse Offen 1922-1934
1. 1933 Alfa Romeo 8C 2300 Castagna Cabriolet
Bud & Thelma Lyon, Kensington, New Hampshire
2. 1924 Delage GL Labourdette Skiff
Ken & Patty McBride, Seattle, Washington
3. 1934 Bugatti Type 50 Cabriolet
Dr. Peter & Susan Williamson, Lyme, New Hampshire

Class J-2 Europäische Klasse offen 1935-1940
1. 1935 Hispano Suiza K6 Brandone Cabriolet
Sam & Emily Mann, Englewood, New Jersey
2. 1938 Lagonda LG6 Rapide Drop Head Coupé
Skip & Judy Barber, Sharon, Connecticut
3. 1939 Lagonda V-12 Drop Head Coupé
Bill Holt, Vancouver, B.C.

Class J-3 Europäische Classic geschlossen
1. 1938 Alfa Romeo 8C 2900B Touring Berlinetta
Jon & Mary Shirley, Medina, Washington
2. 1938 Talbot T150-SS Figoni et Falaschi Coupé
The Peter Mullin Automotive Museum Foundation - Peter & Merle Mullin, Los Angeles,
3. 1933 Hispano Suiza J-12 Van Vooren Faux Cabriolet
William B. Ruger Jr., Newport, New Hampshire

Class L-1 Vorkrieg Erhaltung
1. 1905 Royal Tourist G Touring
John & Heather Mozart, Palo Alto, California
2. 1906 Queen Model K Touring
Les Gitts, Ferndale, Washington
3. 1937 Horch 853 Cabriolet
James W. Taylor, Gloversville, New York

Class L-2 Vorkrieg Erhaltung bis 1967
1. 1957 Ferrari 410 Super America Series II Pinin Farina Coupe
Chris LaPorte, Beecher, Illinois
2. 1955 Lancia Aurelia B24 Pinin Farina Spyder
Steve & Jeanne Katzman, San Rafael, California
3. 1953 Delahaye 235 Chapron Coupe
Brian & Jeannine Hoyt, Hayward, California

Class M-1 Ferrari Grand Touring
1st 1958 Ferrari 250 GT Pinin Farina Cabriolet Series I
Peter & Kacey McCoy, Beverly Hills, California
2. 1951 Ferrari 340 America Ghia Coupe
Jack E. Thomas, St. Louis, Missouri
3. 1961 Ferrari 400 Superamerica Pinin Farina Cabriolet
Wayne & Marilyn Nelson, Longwood, Florida

Class M-2 Ferrari Wettbewerb
1. 1955 Ferrari 500 Mondial Scaglietti Spyder Series II
RADM & Mrs. Robert Phillips, Arlington, Virginia
2. 1951 Ferrari 212 Export Vignale Coupe
Caballeriza Inc., Monterrey, Mexico
3. 1972 Ferrari 312 PB Spyder
Steven Read, Berkeley, California

Class N Lamborghini
1. 1964 Lamborghini 350GT Touring Production Prototype
Paul J. Roesler, Mill Valley, California
2. 1968 Lamborghini Miura Bertone Roadster
Adam Gordon, New York, New York
3. 1971 Lamborghini Miura P400 SV Bertone Prototype
Joseph M. Barone, Honesdale, Pennsylvania

Class O-1 Vorkriegs Sportwagen
1. 1953 Siata 208S Spider Motto Roadster
Elliott Dolin, Malibu, California
2. 1964 Alfa Romeo TZ Zagato Coupé
Ron Hein, Los Angeles, California
3. 1967 Ghia 450SS Cabriolet
Scott McPherson, Tempe, Arizona

Class O-2 Vorkrieg Touring
1. 1948 Delahaye 135MS Faget-Varnet Cabriolet
Cathy Jerry Gauche, Houston, Texas
2. 1954 Pegaso Z102B Saoutchik Berlinetta
Caballeriza Inc., Monterrey, Mexico
3. 1953 Fiat 8V Ghia Supersonic
David & Ginny Sydorick, Beverly Hills, California

Class P General Motors Woodies
1. 1947 Chevrolet Fleetwood Ionia Station Wagon
David E. Walters, Princeville, Hawaii
2. 1947 Pontiac 8 Ionia Station Wagon
Chris Messano, Rancho Palos Verdes, California
3. 1949 Buick Roadmaster Ionia Estate Wagon
Patrick G. McHenry, Brentwood, California

Class R General Motors - Powered Sports Cars
1. 1959 Chevrolet Corvette Scaglietti Coupe
Cliff Hansen, Zephyr Cove, Nevada
2. 1963 Chevrolet Corvette Pinin Farina Rodine
Michael Schudroff, Greenwich, Connecticut
3. 1960 Chevrolet Corvette Roadster
Bruce Meyer, Beverly Hills, California

Class S 20+ Liter Club
1. 1913 Benz 200HP Snutsel, Pere et Fils Racer
George F. Wingard, Eugene, Oregon
2. 1953 Swandean Spitfire Special Race Car
Stephen Brauer, St. Louis, Missouri
3. 1931 Rolls-Royce Phantom II Wilkinsons Drop Head Coupé
Paul E. Andrews Jr., Fort Worth, Texas

Class V Open Wheel Rennwagen
1. 1935 English Racing Automobiles B Series Open Wheel Race Car
Gregory Whitten, Medina, Washington
2. 1959 Quinn Epperly Race Car
Bill Akin, Hermitage, Tennessee
3. 1927 Miller Champ Race Car
Mitchell Rasansky, Dallas, Texas

Spezial Auszeichnungen
Alec Ullman Trophy (gestiftet von Hayward Industries)
1935 Hispano Suiza K6 Brandone Cabriolet
Sam & Emily Mann, Englewood, New Jersey

Ansel Adams Trophy
1912 Pope-Hartford Model 27 Portola Roadster
Gary & Sheryl Hunter, Arcadia, California

Art Center College of Design Award (gestiftet von Art Center College of Design)
1938 Talbot T150-SS Figoni et Falaschi Coupé
The Peter Mullin Automotive Museum Foundation - Peter & Merle Mullin, Los Angeles, California

Briggs Cunningham Trophy (gestiftet von Ford Motor Company Design)
1907 Itala 36/45 Peking to Paris
David Ayre, Ashford Hill, Berkshire, United Kingdom

Chairman's Trophy (gestiftet von Porche Cars North America, Inc.)
1905 Royal Tourist G Touring
John & Heather Mozart, Palo Alto, California

Charles A. Chayne Trophy (gestiftet von Raytheon)
1892 Peugeot Type 3 Vis-a-Vis
Daniel & Toby Ward, Ripon, United Kingdom

Classic Car Club of America Trophy (gestiftet von The Cantore Family)
1934 Packard 1108 LeBaron Sport Phaeton
The Nethercutt Collection - Jack & Helen Nethercutt, Sylmar, California

Elegance in Motion Trophy gestiftet von Classic and Sports Car Magazine)
1938 Alfa Romeo 8C 2900B Touring Berlinetta
Jon & Mary Shirley, Medina, Washington

Enzo Ferrari Trophy
1955 Ferrari 500 Mondial Scaglietti Spyder Series II
RADM & Mrs. Robert Phillips, Arlington, Virginia

FIVA Award (gestiftet von Hagerty Classic Insurance)
1925 Packard 136 Pullman Sport Model
Mark Smith, Melvin Village, New Hampshire

French Cup (gestiftet von MMD USA)
1924 Delage GL Labourdette Skiff
Ken & Patty McBride, Seattle, Washington

Lincoln Trophy (gestiftet von Lincoln)
1935 Lincoln K LeBaron Coupe
Dr. Peter Heydon, Ann Arbor, Michigan

Lorin Tryon Trophy
Glenn Mounger, Bainbridge Island, Washington

Lucius Beebe Trophy (gestiftet von Rolls Royce MotorCars)
1937 Rolls-Royce Phantom III Freestone & Webb Sedanca
Don & Janet Williams, Danville, California

Mercedes-Benz Trophy (gestiftet von Mercedes-Benz of North America)
1929 Mercedes-Benz SSK Barker Roadster
The Collier Collection, Naples, Florida

Mille Miglia Trophy (gestiftet von Mille Miglia)
1933 Alfa Romeo 6C 1750 Grand Sport Touring Spider
Hugo Modderman, Monte Carlo, Monaco

Montagu of Beaulieu Trophy (gestiftet von Edward Lord Montagu)
1938 Lagonda LG6 Rapide Drop Head Coupé
Skip & Judy Barber, Sharon, Connecticut

People's Choice Award (gestiftet von MSN)
1961 Ferrari 250 GT SWB Scaglietti Spyder California
Peter S. Kalikow, New York, New York

Phil Hill Cup (gestiftet von DRS Technologies, Inc.)
1932 Alfa Romeo 8C 2300 Le Mans
Gill Noble, Gosforth, Newcastle Upon Tyne, United Kingdom

Polyphony Digital Trophy (gestiftet von Polyphony Digital)
1967 Lamborghini Miura P400 Bertone Prototype
J. W. Marriott, Bethesda, Maryland

Road & Track Trophy (gestiftet von Road & Track Magazine)
1937 Mercedes-Benz 540K Cabriolet A
Ray & Janet Scherr, Westlake Village, California

Tony Hulman Trophy (gestiftet von Indianapolis Motor Speedway)
1935 English Racing Automobiles B Series Open Wheel Race Car
Gregory Whitten, Medina, Washington